TEL AVIV — Hundreds of air warriors and technicians from Israel, the US, Greece and Poland concluded here Thursday a two-week drill designed to hone the type of joint planning, targeting and coordinated command-and-control demanded by coalitions operating in complex Mideast theaters.
Blue Flag 2015 was the second and by far most extensive biannual drill hosted by the Israel Air Force (IAF) and monitored by officers and attaches from 34 countries, including Austria, Britain, Canada and France.
It involved dozens of F-15 and F-16 fighters flying nearly 250 sorties over much of the country in scenarios that simulated air to air-battles and attacks on fixed and moving targets amid threats from surface-to-air missile batteries and shoulder-fired missiles.
Day and night flights took place in harsh autumn storms, where participants practiced aerial refueling and complicated bomb damage assessment under unusually challenging conditions.
IAF Capt. Gil, head of the service's international exercises branch, said Blue Flag took eight months to plan, and involved direct input by all participating nations. "We met with all the countries, asked them what are their operational challenges back home, what their needs are, and what capabilities they could bring to the table."
"We started with familiarization flights of Israeli airspace, followed by warmup for more elaborate exercises," said Gil, whose last name was withheld for security reasons.
"By the second week, it was much more challenging missions that required cooperation and coordination not only in flight, but throughout the entire cycle, from planning the mission, executing it, debriefing it and knowing how they did."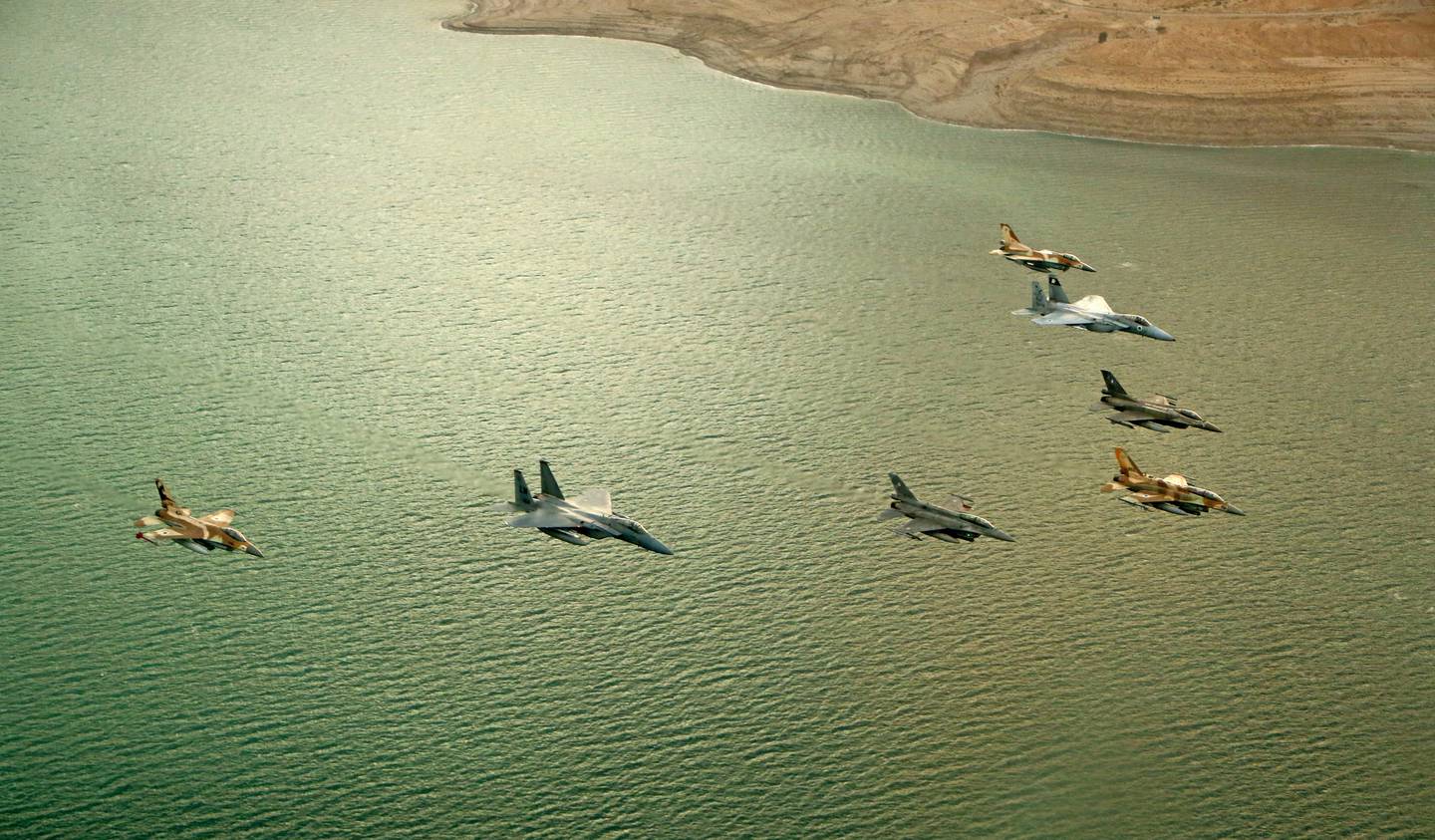 Blue Flag 2015 was the biggest aerial exercise in the history of the IAF in which multiple foreign forces took part and practiced coalition flying in extreme scenarios.
Photo Credit: Israeli Air Force
The IAF officer noted that unlike most multinational exercises, "which are very rigid; it's their way or the highway," the IAF put great emphasis on customizing the drill to participant needs. "We put great emphasis on planning together, briefing together and how to learn from one another," he said.
"This exercise, now looking back over the past two weeks, we can say we put our money where our mouth is," said Gil. "We utilized all the airspace that the IAF could offer. We provided state of the art enemy simulations, debriefing technologies … and coalition-based scenarios where all the planning and flying was done together."
Enemy air power was provided by the IAF's Red Team Flying Dragon squadron to reinforce unity and interoperability among participating nations. "At no point in the exercise did we fly against each other," said Gil.
The IAF officer said he was not authorized to discuss costs of the drill, or cost-sharing arrangements worked out among participating nations. "We have non-disclosure agreements with participating countries," he told Defense News.
"This was a very unique exercise in a very important part of the world," Lt. Col. John Straton, commander of an F-15 squadron from US Air Forces Europe, told the IAF website.
The next Blue Flag will be held in 2017.
Email: bopallrome@defensenews.com
Opall-Rome is Israel bureau chief for Defense News. She has been covering U.S.-Israel strategic cooperation, Mideast security and missile defense since May 1988. She lives north of Tel Aviv. Visit her website at www.opall-rome.com.
Share: