COLORADO SPRINGS, Colo. — It starts with a speech by acting Defense Secretary Patrick Shanahan. That's followed up quickly by Commerce Secretary Wilbur Ross, then Secretary of the Air Force Heather Wilson. Later, throw in Air Force Chief of Staff Gen. David Goldfein, incoming Space Command head Gen. Jay Raymond and a group of international air chiefs.
And that's just on Tuesday.
Welcome to what top Shanahan staff have internally dubbed "Space Week," a three-day stretch where Pentagon officials will lay out their competing views for the future of the department's space architecture, as Congress launches its own debate about whether those plans should be adopted and how.
RELATED
It starts with two days of speeches at the annual Space Symposium and culminates on Thursday. Shanahan, Wilson, U.S. Strategic Command chief Gen. John Hyten and Gen. Joe Dunford, the chairman of the joint chiefs, will appear on an unusually stacked panel in front of the Senate Armed Services Committee that day.
Despite all the action, a senior defense official, speaking ahead of the week's events, tried to downplay the importance of the week to the Pentagon's plans for the future, saying "not really" when asked if this is a make-or-break moment for the department's push to create U.S. Space Command, a Space Force and the Space Development Agency.
But the official did acknowledge "this week is an opportunity to make our case to the American public, to the space community and to the Senate in particularly on Thursday."
And Brian Weeden, a former Air Force officer and space expert with the Secure World Foundation, said this would be a "huge week for the administration's national security space proposals," although he points to Thursday's hearing as the main event.
"I expect them to make a strong PR push for everything at the symposium, but the real test will be convincing Congress," Weeden said. "So far, the DoD has not been able to answer why they need both Space Force and [U.S. Space Command], and how that solution will fix the current problems with [Air Force Space Command] to Congress' satisfaction."
RELATED
Showtime
In many ways, Shanahan's presence at the Space Symposium is symbolic of how quickly space has become a major priority for the Pentagon.
The show was, for years, fairly sleepy from a defense standpoint. Major contractors would attend, as would those Air Force and government officials who directly deal with space. But the level of officials at the conference this year — both from the U.S. and abroad, with a special conference of global air chiefs hosted by Goldfein to discuss space issues — is unprecedented.
The timing of the Senate hearing, just after many of the key officials dealing with space will make speeches at the symposium, means the proponents of the Pentagon's plan will have a chance to hone their public remarks before facing lawmakers.
RELATED
The senior Pentagon official described the Defense Department's thinking as a case of wanting to get ahead of a problem, rather than dealing with it later.
"We can wait, but then we'll probably be doing something like this in a couple years once there's something significant, a significant event that forces us to do it," the official said. "We'd rather lean forward, be prepared, organize for the future rather than organize for the past. We think this is a way to get after it."
Shanahan will have to pitch the trio of agencies to a potentially skeptical Congress, where members seem to have largely embraced the idea of Space Command but remain divided on whether the Space Development Agency or the Space Force are necessary, and if or when they should come into existence.
"It's going to be different from what the White House proposed," House Armed Services Committee Chairman Adam Smith, D-Wash., said last month. "Three more four-star generals are not going to make us stronger in space."
RELATED
The senior Pentagon official said to expect three key messages from Shanahan. First, "that the status quo is not working, or will not keep us ahead of the threat" going forward, hence the need for the new architecture. Second, that "space is now a physical domain that we need to protect and defend," and that other physical spaces — sea, air and land — have their own military branches, so a Space Force is the logical next step.
And finally, that while the impetus for a stand-alone Space Force has come from President Donald Trump, the push for a new space organization actually came from congressional marching orders two years ago, and the Pentagon is just following through.
"One of the things that we want to tee up is this whole organizational review ... that Congress actually teed up," the official said. "A large part of why we're having this conversation is Congress" — and hence, Congress should support it in some bipartisan fashion, the official added.
That strategy appears to line up with comments from Rep. Jim Cooper, the Tennessee Democrat who chairs the House Armed Services' Strategic Forces Subcommittee, who recently told Defense News that Trump "obviously hijacked our proposal and exaggerated it. Now it's returning back to the centrist proposal that it always was."
"I'm hopeful that the president did not hopelessly politicize the issue when the Republican campaign committee announced a competition for the best space patch. I thought that was a terrible development," Cooper said. "Hopefully Trump's involvement, especially now that the actual proposal is much more like our original proposal, hopefully that will de-politicize it."
RELATED
Potential fault lines
Shanahan's pitch was visible in the kickoff event of Space Week, the acting secretary's speech on Tuesday morning at Space Symposium.
"We realized that although we have the talent we need and the technology at our fingertips, the department does not currently have the organizational and leadership structure necessary to move fast, leverage new technology and defend our space interests," Shanahan said.
"Rather than watch the world evolve around us, we are seizing the strategic initiative. We went back to the drawing board and came up with a new plan. This plan will impose costs on our would-be adversaries and deny them any perceived benefits — to paraphrase President Reagan, peace in space requires strength in space."
In another sector of the speech, he said: "Our military is structured around physical domains: Navy on sea, Army on land and Air Force on air. Given the changes in the environment, we now need a military service dedicated to protecting and defending space — the Space Force."
RELATED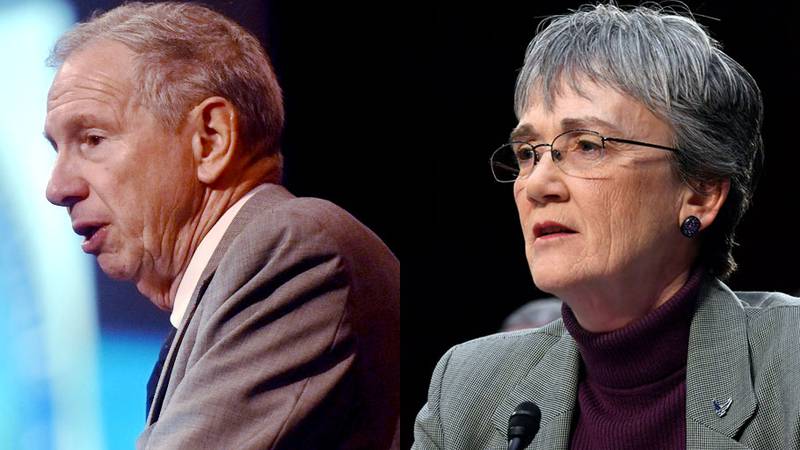 For those who follow Pentagon intrigues, the back-to-back speeches of Shanahan and Wilson provided a preview of fault lines for the SASC hearing. The two have clashed over the formation of the Space Force and the Space Development Agency over the last eight months; and with Wilson officially announcing plans to leave the Pentagon in May, some wondered if her comments would entirely line up with Shanahan's.
While not directly countering anything Shanahan said, Wilson used her speech to hype the work of the service's Space and Missile Systems Center, whose future is somewhat uncertain under the Pentagon's tripartite space plan. She also warned against centralizing control over acquisition, noting that acquisition reform is something on which she has focused during her time in the service.
"It's a lot harder to do it than talk about it," Wilson said to applause. "The Air Force is doing it."
Wilson also talked up the Space Force — which will at least for now live under the Air Force — and Space Command, without mentioning the Space Development Agency.
However, she did say an Air Force study has found that "increasing the numbers of satellites helps, but numbers alone are not enough," in what may have been a swipe at the SDA's plan for a major constellation in low-Earth orbit. Later, again without naming the SDA, Wilson described a plan similar to the SDA's and said it would "result in failure on America's worst day if we rely upon" that plan alone.
"The analysis shows that clearly," she said.
Should members of Congress target on that potential split, Thursday's hearing could become a can't-miss event for Pentagon watchers.
Aaron Mehta was deputy editor and senior Pentagon correspondent for Defense News, covering policy, strategy and acquisition at the highest levels of the Defense Department and its international partners.
Share: