Update 10/5/16 -- This story has been updated to clarify that the data provided by Avascent is based on company projections and are not representative of the currently stated plans for the US Air Force. The headline has been changed to reflect that. 

WASHINGTON — The US Air Force could look to shrink its total air asset inventory by 235 planes over the next five years, a net drop largely driven by standing down legacy fighter aircraft as the F-35 joint strike fighter comes online, according to predictions from a leading Washington analysis firm.

That's according to an analysis by analytics firm Avascent of the Air Force's most recent budget submission, which covers fiscal years 2017 through 2021, predicts that the Air Force will look to divest 232 T-38 trainers, 166 A-10 Warthogs and 160 F-16s over the next five years, while adding 185 F-35s.

The analysis is based on the plans laid out in the Air Force's most recent budget, as well as a read of the data from the global marketplace. It is a projection, and not a guarantee. For instance, the Air Force has not articulated any plans to divest the T-38 until its replacement comes fully online, but Avascent predicts it will begin to do so in the near future. 

According to Avascent, the majority of the 77 types of aircraft that are in the non-classified inventory will keep their current levels under the budget plan. The service plans to plus up its target-drone inventory by 108 aircraft, including 91 new QF-16 aircraft. Active drones will also get an increase, with 81 MQ-9 Reaper unmanned systems scheduled for procurement.

These trends should not be a surprise to anyone who has been tracking the Air Force, said Richard Aboulafia, an analyst with the Teal Group. For years, service leaders have talked about the need to keep the F-35, KC-46A tanker (64 procured in this time frame) and B-21 bomber on track. And if the Air Force wants to shift anything around with its next budget plan, it will need to find ways to work around that reality.

"The overwhelming bulk of Air Force investment dollars are tied into F-35, B-21 and KC-46, and they can't touch KC-46 because it's a fixed-price contract. You touch that contract and there's a party at Boeing," Aboulafia said in a nod to the tanker deal that is viewed as unusually government-friendly.

Click here for our complete coverage of the 2016 Air Force Association conference.

Doug Berenson of Avascent notes those three major programs provide "some remarkable stability" for the coming years, because those priorities are not going to shift. But hanging over these projections is the reality that Congress could intervene, as it has to save the A-10 in previous years.

"The age-old question is whether Congress will allow retirement of legacy aircraft, and not assuming that here," Berenson said. "There is just too much history around the A-10 and the B-1 bomber and a few others. We are assuming, essentially, stability in some of the legacy fleets that the Air Force would like to slim down, simply as a matter of congressional relations."

So if the F-35, KC-46 and B-21 are largely protected, and Congress will not allow legacy aircraft to be retired in large numbers, look for new programs such as the T-X trainer or JSTARs replacement to be pushed back yet again.

"Of all the programs we were thinking about, all the new starts in the Air Force, [JSTARS] is probably the one that has the most churn around its requirements," Berenson noted. "And in a very tight budget climate, that kind of uncertainty can become a rationale for delay in order to relieve pressure on everything else."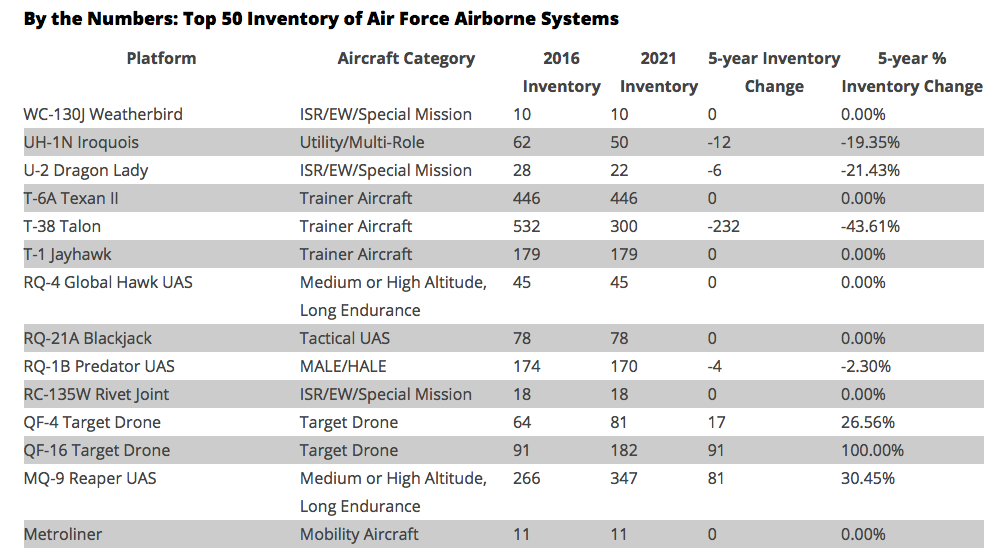 Aaron Mehta was deputy editor and senior Pentagon correspondent for Defense News, covering policy, strategy and acquisition at the highest levels of the Defense Department and its international partners.
Share: