WASHINGTON — The defense industry will continue its forward trajectory of mergers and acquisitions following its increase at the end of 2016 and will see continued modest growth in revenue and profit, according to a report by PwC.

"While the first three quarters of 2016 were restrained in terms of deal-making for the sector, the uptick in fourth-quarter 2016 appears to reflect positive deal momentum and potential pent-up demand, as financial and strategic investors began to take advantage of opportunities and address threats in the U.S. and global marketplaces," the report indicated.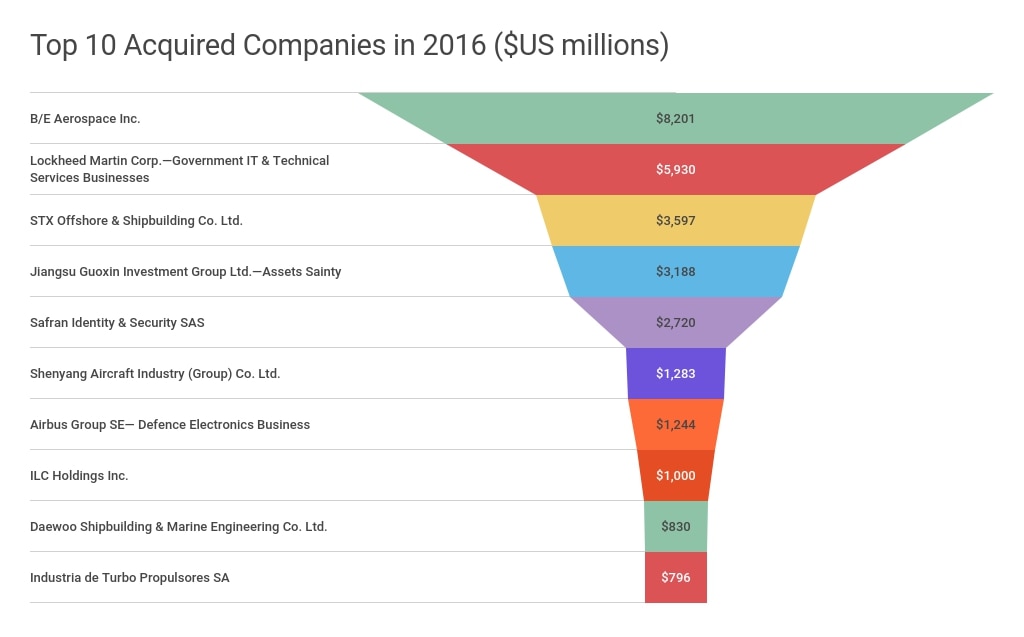 Top 10 Acquisitions in 2016

Photo Credit: Data from PwC

PwC noted this industry consolidation was a result of a combination of market contraction and general certainty about the defense industry.

The optimistic outlook for the defense sector has benefited from the Trump administration's plans to end sequestration as well as a $25 billion defense budget increase. The administration's pressure on NATO allies to increase their defense spending to meet the 2 percent of gross domestic product defense spending standard has also benefited the defense sector.

However, this positive outlook will likely not translate into a particularly robust 2017 for the defense sector because changes in budgets are not effective for several years. Additionally, tension in Russia, North Korea and Iran could mean new defense priorities in the coming years.

Russia's looming presence in Europe, coupled with an increased threat of terrorism, has caused the U.K., Germany and France to pledge defense reinforcement. But, counterterrorism efforts are slanted significantly toward cyber and intelligence, which causes European contractors to amp up their exports, making the global defense industry increasingly competitive for U.S. companies.

Even so, European defense companies saw a decrease in revenue of 7 percent from 2015 to 2016 while U.S. companies saw a 5 percent increase.

"In this environment, companies and governments may have to rethink their operating models, leading to more cooperative programs, niche market specialization, and industry consolidation," the report said.


Photo Credit: Data from PwC

The Department of Defense still opposes consolidation of major prime contractors, but the report said that position could harden or soften depending on upcoming market conditions. Regardless, PwC predicts further consolidation from the smaller companies that make up the supply base.

The DoD will also continue to show affinity towards affordability, maintaining its shift towards platform upgrades versus entirely new platform procurement, which, in turn, points to PwC's prediction for more growth in the categories of electronics, C4 and cybersecurity. 

Share: