COLORADO SPRINGS, Colo. — In what will likely be her final speech at Space Symposium before departing in May, Air Force Secretary Heather Wilson used her time to deliver a scathing blow to the newly established Space Development Agency.
Wilson has been a strong and vocal critic of the Space Development Agency, which was officially formed last month and has strong backing by acting Defense Secretary Patrick Shanahan and Mike Griffin, the undersecretary of defense for research and engineering.
RELATED
Those officials envision SDA as an organization that will fast-track important space programs, and its first task will be to launch a constellation of many small, inexpensive low-Earth orbit satellites that will rapidly transfer data between space- and ground-based capabilities.
On Tuesday, Wilson rebuked that idea, saying that a "one size fits all" approach to small satellites could be disastrous.
RELATED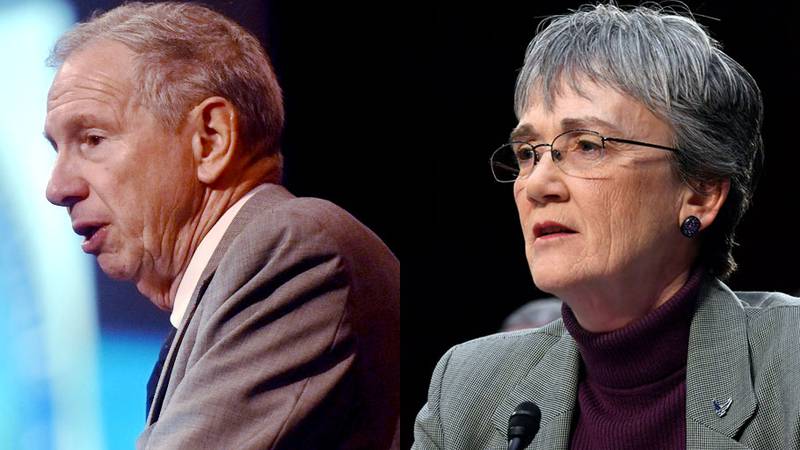 "Let me be clear: The United States Air Force is funding the development of low-Earth orbit systems and commercially based systems for some of our missions," Wilson told the audience at the Space Symposium.
"But launching hundreds of cheap satellites into theater as a substitute for the complex architectures where we provide key capabilities to the war fighter will result in failure on America's worst day if relied upon alone. The analysis shows that," she added.
The analysis cited by Wilson is a 90-day study that re-evaluated the space strategy the Air Force put forward two years ago. The study included perspectives from other Defense Department and government stakeholders as well as all space-centric missions like missile warning, communications and intelligence gathering.
"We took the best estimates of the threat and pursued a thinking adversary who will respond to the actions that we take," she said, adding that the service conducted a series of war games and simulations using various space architectures.
The findings highlight a need for a diverse space architecture that uses commercial space technologies when it makes sense, she said.
"Increasing the number of satellites helps. But numbers alone are not enough," Wilson said. "The study also found that space missions that are not well aligned with commercial, low-Earth orbit satellite are actually better off staying where they are or making other changes to protect themselves."
Throughout her speech, the top Air Force civilian praised the service's work to streamline how it buys space assets. Wilson no longer has decision authority on space programs, she said, because she can't add any value to the process and wants to trust space officials and program managers to make the right calls.
She also announced a second "Pitch Day" aimed at getting innovative startup companies under contract within minutes, this time centered around space technologies and taking place in Los Angeles.
Meanwhile, in his own speech before Wilson's, Shanahan portrayed SDA as an agency that will be positioned to partner with industry, saying he wants to "rip off and deploy" the kinds of tech available in the commercial space sector.
It remains to be seen whether Wilson's criticism will impact the structure of SDA, which is already an established reality. The Pentagon stood up SDA on March 12, with Shanahan tapping Fred Kennedy, then the director of the Tactical Technology Office, to lead the new organization.
Wilson is leaving the Air Force secretary job in May, and other Air Force leaders don't seem eager to fight against the SDA's formation.
In an exclusive interview with Defense News, Air Force Chief of Staff Dave Goldfein said that both Shanahan and Wilson are focused on speeding up how the military buys space capabilities.
"I think there's great promise in making sure that we take the work that [Space and Missile Systems Center] has been doing and advancing that, and the work SDA will do, and finding the right ways to make sure that we move forward as Secretary Shanahan said, without adding additional bureaucracy," he said.
U.S. Strategic Command chief Gen. John Hyten, who was nominated April 8 to become vice chairman of the Joint Chiefs of Staff, also tried to strike a balance between Wilson's view and that of Shanahan.
"You heard two things this morning: You heard the secretary of defense talk about the Space Development Agency, taking risk and trying new things. You heard the secretary of the Air Force talk about the new Space and Missile Systems Center, where we're taking risk and doing things in a different way," he said.
"What we as a nation need to understand is that both of those are going to be part of the solution of the future. We have to make sure that we allow people to take risks and fail every once and a while. Not uninformed risk, not stupid risks, not risks of life and limb, but risks of failing."
Valerie Insinna is Defense News' air warfare reporter. She previously worked the Navy/congressional beats for Defense Daily, which followed almost three years as a staff writer for National Defense Magazine. Prior to that, she worked as an editorial assistant for the Tokyo Shimbun's Washington bureau.
Share: