WASHINGTON — A pair of California lawmakers are concerned that the Defense Department's focus on the newly established Space Development Agency could erode the progress of its legacy space technology procurement arm, the Space and Missile Systems Center.
In an April 16 letter to acting Defense Secretary Patrick Shanahan and obtained by Defense News, Reps. Ted Lieu, a Democrat, and Ken Calvert, a Republican, wrote that the current iteration of SDA is duplicative and risks undermining the recent organization of Space and Missile Systems Center, otherwise known as SMC.
"The SDA as proposed raises questions about how it will fit with our existing military space structure. Specifically, it is unclear how the SDA as proposed will impact the role of SMC, a unit of Air Force Space Command and the longtime center of technical excellence for developing, acquiring, fielding and sustaining military space systems," the lawmakers wrote in their letter.
RELATED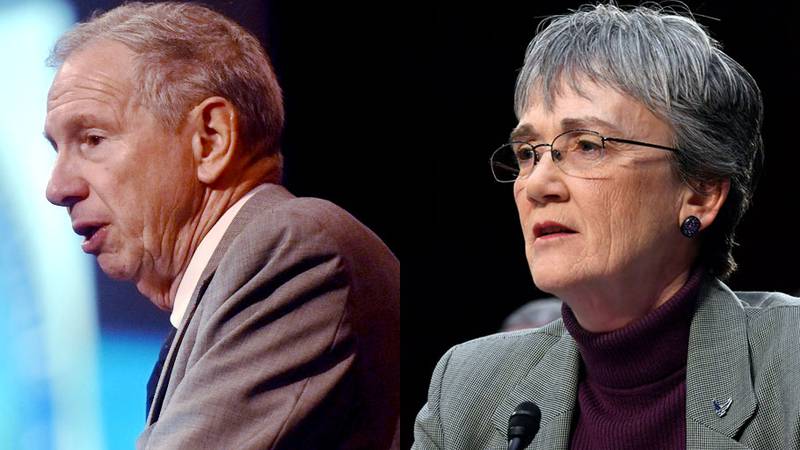 Rather than creating a new organization in SDA, Lieu and Calvert proposed an expansion of SMC that would "leverage the existing aerospace ecosystem built around SMC and create new synergies with those entities."
SMC is located at Los Angeles Air Force Base in El Segundo, California, which Lieu represents on Capitol Hill. Calvert represents the Riverside region of the state, located between Los Angeles and San Diego.
"The notion that moving a piece of SMC's space portfolio out of the aerospace hub in southern California will have a net-positive impact on military space acquisition fails the test of logic," they wrote.
"A new name on the door and less proximity to innovators and expertise will not help the department address the fundamental challenge with space acquisition: the Pentagon's procurement regulations. SDA seems to be an organizational solution to a process problem that will most likely result in more bureaucracy, not more capability."
Lieu and Calvert's letter give outgoing Air Force Secretary Heather Wilson's criticisms of the SDA some much-needed support in Congress. In February, before the Pentagon had formally established the new agency, Wilson sent a memo to Under Secretary of Defense for Research and Engineering Michael Griffin, imploring him to reconsider SDA's impending formation.
Wilson argued that SDA's functions were not demonstrably different than existing ones like SMC and the Space Rapid Capabilities Office. She also expressed concern about plans to remove certain space acquisition jobs and about the SDA's first project — a new constellation of low-cost, small satellites that would be launched to low-Earth orbit and transmit data in a more distributed and survivable manner.
RELATED
"Until the Space Development Agency has a uniquely identifiable mission that cannot be accomplished by current organizations, the plan should not move forward," Wilson said at the time.
Her concerns went unheeded.
On March 12, Shanahan signed off on the launch of SDA, naming Fred Kennedy of the Defense Advanced Research Projects Agency as the new director.
Wilson has already tendered her resignation and intends to leave her Air Force role in May to become president of the University of Texas El Paso. With few other Air Force leaders coming out in opposition against the new space agency, it's unclear whether her criticism of SDA will have a lasting impact, though her greatest hope would be to rally allies in Congress.
Shanahan does not need congressional approval to establish new organizations like SDA, and the new agency is moving forward with plans to solicit information from industry on its first program this summer, Kennedy told reporters last week.
But even if lawmakers are too late to block the formation of SDA, they can still make it difficult for the organization to become viable by withholding funds for personnel and projects — more specifically, for fiscal 2020, the Defense Department has requested $149.8 million; it is also requesting that Congress reroute some FY19 funding to the organization for staffing and initial activities over the next couple months.
"It's not a lot of money," Kennedy told reporters April 9. "We're just going to wait and see whether Congress is able to deal with that. If I get it, great, if not, I'll look to Dr. Griffin to see if he can help me with a modicum of internal funds to keep me going. … I need people now, and I need resources now."
Kennedy made his first appearance last week as SDA's director at Space Symposium, where he mounted a defense of the organization. SDA isn't meant to take the place of Space and Missile Systems Command, he said. The agency's strength is its expansive acquisition authority, which allows it to procure new technology without an established requirement.
"We have a culture in the national security space community that does not easily respond to the pace of threat," Kennedy said. "I cannot find an organization out there that responds in a timely fashion to these kinds of threats. So the thought was: 'Let's stand up an agency that has the appropriate authorities that can actually move at that speed, at that threat.' "
Valerie Insinna is Defense News' air warfare reporter. She previously worked the Navy/congressional beats for Defense Daily, which followed almost three years as a staff writer for National Defense Magazine. Prior to that, she worked as an editorial assistant for the Tokyo Shimbun's Washington bureau.
Share: