WASHINGTON — As the Air Force prepares to start the second phase of its launch services competition, it is looking increasingly unlikely that it will heed Blue Origin's call to delay the contract award, currently slated to occur in early 2020.
But the head of the House Armed Services Committee is pushing back on that course of action, telling Air Force Secretary Heather Wilson in a March 28 letter that the service should take time to reassess its current plan — and hinting that there could be language in the fiscal year 2020 defense authorization bill that addresses the launch service procurement program.
RELATED
"I would like to convey my concern that the Air Force is rapidly pressing ahead with its Launch Services Procurement (LSP) plan, including issuing a Request for Proposal (RFP) in a way that risks undermining the Air Force's goal of maximizing and sustaining fair and open competition, and without sufficient information to properly evaluate next generation launch systems," said Democratic Rep. Adam Smith. Blue Origin is based in Smith's home state of Washington.
"Given these concerns about maximizing fair and open competition, I urge you to delay the upcoming RFP until these concerns are resolved and until there is further clarity on a path forward that maximizes fair and open competition."
The Air Force is set to release a request for proposals for LSP sometime over "the next couple weeks," said Lt. Gen. John Thompson, head of the Space and Missile Systems Center. SMC is charged with procuring the Air Force's space systems.
"We're anticipating a spring award next year," he told reporters on March 27, adding that he knows of no discussions inside the Pentagon about prolonging the award date.
Blue Origin has been quietly been making the case to Congress that moving to source selection that quickly would be a mistake — and its argument is gaining traction with key members of Congress like Smith and Sen. Deb Fischer, R-Neb., chairwoman of the Strategic Forces Subcommittee, who asked Thompson about the LSP schedule during a March 27 hearing.
The company argues that the Air Force should push back source selection by one to two years, an industry source told Defense News. An additional year would give competitors time to hit key milestones like critical design reviews, engine qualifications and major component testing, while two years would allow for companies to launch their rockets for the first time.
All of those events could give the Air Force more data with which to make a more informed decision, the source said.
RELATED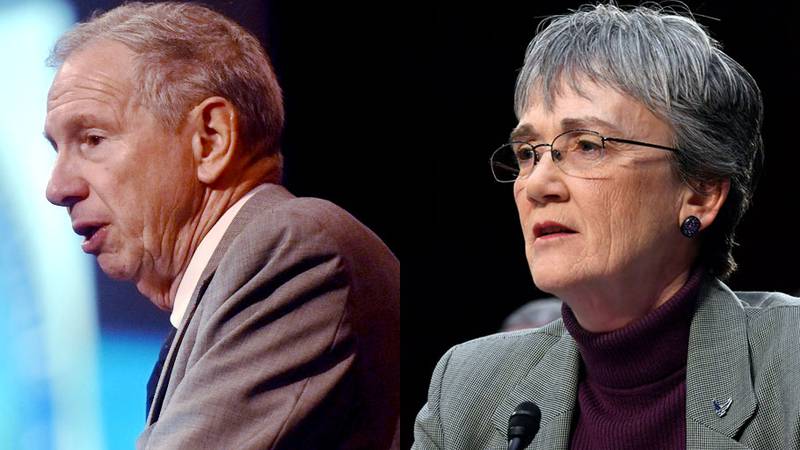 In his letter to Wilson, HASC chairman Smith seemed to agree with Blue Origin's argument, saying that "there seems to be a rush" to move the competition forward despite delays in getting the competition started.
The award for the first phase of the LSP program was delayed until October 2018, giving the companies that won public-private partnership money — Blue Origin, United Launch Alliance and Northrop Grumman — less than six months to work on their brand-new rocket designs.
"Understanding it is important to make the right decision on such a monumental step in our space program, I encourage the Air Force to take more time to obtain additional information before moving forward," Smith said.
ULA's agreement is worth $967 million to develop the Vulcan Centaur, Northrop's stands at $792 million for its OmegA rocket, while Blue Origin's clocks in at a $500 million to build its New Glenn system. SpaceX, which did not win funding under the Phase 1, is also widely expected to compete for the Phase 2 contract.
RELATED
The battle will culminate with the Air Force's downselect to two launch providers, who will continue to bid against each other for the next five years, Thompson said. The service has told competitors to expect to bid for five launches per year.
"We are ready to issue an RFP for the launch service procurements. All potential offerors have sufficient maturity, and we expect a full and open and robust competition," he told lawmakers on Wednesday.
Thompson also pushed back on the idea that starting a competition now would limit the Air Force's ability to learn about the companies' launch systems as they move through the design process.
"Offerors will be able to update their proposals throughout the evaluation period if they have technological maturities or design review completions. We're confident we're on the right path for our nation's warfighting capability, and that we're being good stewards of the taxpayer's dollars," he said.
Blue Origin contends that, by cutting off the competition next year, it could be artificially capping a playing field that may be able to support more than two launch service providers.
"If the Air Force follows through on its stated plan to award exclusive five- to eight-year contracts to just two of these companies, it would dangerously limit competition and undermine the opportunity to access the full range of extraordinary technological breakthroughs taking place in an incredibly fast-moving commercial space launch market," Barbara Comstock, a former House representative for Virginia who now works for Blue Origin, wrote in a March 18 editorial in Defense One.
The industry source added that once the Air Force downselects to two competitors, the U.S. government will be locked into doing business with the new rocket manufacturers it picks — and one or two of the companies that won a Phase 1 contract will no longer be receiving funding from the government to continue developing their offerings.
Once that happens, there's no guarantee that firms will continue to invest internally in developing the equipment specific only to national security launches, he said.
Thompson, however, hinted that the Air Force may take steps to ensure that the competitors who lose out on Phase 2 still are incentivized to continue building their rocket designs, so that they can participate in later iterations of the program.
"When we make the award next spring, then my guess is we'll have an opportunity to discuss with those offerors who did not receive awards how we will keep them in the game so we can compete for Phase 3, which will be our next launch service procurement in the future," Thompson said.
Having a choice among four launch providers is a new phenomenon for the Air Force, which for more than a decade relied on ULA — a joint venture of Lockheed Martin and Boeing — to build rockets for national security launches. That changed in 2015, when SpaceX's Falcon 9 was certified by the Air Force.
Another major disruption came about a year later, when Congress passed legislation limiting the number of Russian-made RD-180 engines that ULA could purchase for its Atlas V rocket at 18 engines.
So far, six RD-180s have been used by ULA, leaving 12 for upcoming launches. Thompson told reporters that the service doesn't have clarity on when those RD-180s will run out, as the schedule has not been set in stone for all of those launches.
Valerie Insinna is Defense News' air warfare reporter. She previously worked the Navy/congressional beats for Defense Daily, which followed almost three years as a staff writer for National Defense Magazine. Prior to that, she worked as an editorial assistant for the Tokyo Shimbun's Washington bureau.
Share: