WELLINGTON, New Zealand — New Zealand has released three defense and national security documents outlining prevailing challenges, principals for its military and ways to improve the force.
Defence Minister Andrew Little on Aug. 4 presented to lawmakers a 36-page "Defence Policy and Strategy Statement," a 12-page "Future Force Design Principles" document and an inaugural 44-page "National Security Strategy."
"A year ago we commissioned the Defence Policy Review, to provide a roadmap for the future of Defence as part of the national security of New Zealand, and to do so in the context of the rapidly changing conditions we see around us," Little said, per a transcript of a speech in which he introduced the documents. "One of the first actions [Prime Minister] Chris Hipkins government took was to speed up work on that review."
Overall, the documents outline challenges and pressures; introduce "sliding principles" and four underlying assumptions; and conclude that, in the mid- to long-term period, investment in the military is needed to "continue to protect and promote New Zealand's interests."
Threats
"In 2023 we do not live in a benign strategic environment," Little said. "New Zealand is facing more geostrategic challenges than we have had in decades — climate change, terrorism, cyberattacks, transnational crime, mis and disinformation, and competition in our region which, up until recently, we thought was protected by its remoteness."
Those challenges appear to have overtaken expectations, with the government writing that the military "is designed for a relatively benign strategic environment, and not the challenges of increased strategic competition and the adverse effects of climate change that the Defence Policy and Strategy Statement 2023 identifies. As a result, it is not in a fit state to respond to future challenges."
"A rough sea can still be navigated," the government wrote, and "even in difficult times we can act to find our way through."
But it's unclear how that could be the case, given the "Defence Policy and Strategy Statement" acknowledges it "does not in itself address capability investment questions or require particular investment tracks to be adopted."
Instead, the document includes "a range of defence activities which can be delivered in various combinations of scalable defence capabilities, from defence diplomacy through to combat operations. The task of examining how to best match capabilities to these activities, and balancing the required resourcing with associated trade-offs on policy outcomes, is the subject of a future capability planning process."
More specifically, the government calls out regional neighbors as threats to "existing international rules and norms." Those countries include "an increasingly powerful China" that "continues to invest heavily in growing and modernising its military, and is increasingly able to project military and paramilitary force beyond its immediate region."
New Zealand also calls out Russia's invasion of Ukraine and North Korea's nuclear weapons program as challenging the effectiveness of international institutions.
The government also notes that strategic interest in Antarctica and the continent's surrounding waters is growing, but fails to mention its March 2022 decision to defer the purchase of a regional patrol vessel.
Principles and assumptions
The "Future Force Design Principles" document describes eight areas "designed to be scalable — from low to medium to high."
"Given the need for flexibility in force design," the government wrote, "they are movable and their positioning is a distinct policy choice. All principles are interrelated and must be used in combination to effectively deliver a coherent force. Each sliding principle includes a specified area on a scale."
Those principles include:
Combat capability: Marked as medium on the government's desired policy scale, it represents the extent to which the New Zealand Defence Force can deploy for noncombat operations and in conflict zones, and be able to recover.
Concurrency: Falling between medium and high, this represents the military's ability to simultaneously operate in multiple locations.
Resilience: Also between medium and high, it measures whether the military is "prepared for shocks," including disruptions to supply chains and digital networks.
Flexibility: Set as medium, this amounts to the range of circumstances the military can handle.
Scalability: Also medium, this covers the Defence Force's ability to either "rapidly expand or reduce its capabilities, and structures, allowing it to adapt to future changes in the strategic environment."
Partnered: Another principle landing at medium, it covers how well the military can operate independently. Still, the government notes New Zealand "will continue to partner with other government and non-governmental agencies, New Zealand's ally Australia, Pacific partners, other security partners, and industry."
Technological approach: Landing between medium and high, this represents the pursuit of leading-edge technologies. "The Defence Force will seek opportunities to adopt technologies earlier in their lifecycle once proven, and in line with what our partners are doing," the government wrote. However, the military "will not seek to be at the leading edge."
System complexity: Between low and medium, this final principle notes the military "will seek lower system complexity, including acquiring off-the-shelf instead of bespoke military capabilities where possible. Some systems will be proprietary, but generally simpler systems will be sought."
The same document also lists four planning assumptions that "underpin the principles and will be taken as fact in the development of investment planning and policy":
There is less time to plan and react.
The Defence Force will leverage partnerships to deliver outcomes.
The military will be prepared for combat.
The government will improve funding certainty for the military.
Future force
New Zealand describes Australia as its most critical defense and security partner, and the island nation's "only formal defence ally." But it also mentions its Five Eyes intelligence-sharing partners — the United Kingtom, the United States, Canada and Australia — as critical to the Defence Force leveraging science and technology developments.
To this end, New Zealand notes the second pillar of AUKUS — a deal between Australia, the U.K. and the U.S. to provide nuclear-powered submarines, among other technology, to Canberra — "may present an opportunity for New Zealand to cooperate with close security partners on emerging technologies."
That pillar encompasses the development of advanced technologies, including artificial intelligence.
New Zealand also called the United States "a crucial defence partner for New Zealand, with defence engagement deepening over the past decade."
New Zealand's first "National Security Strategy" covers the 2023-2028 time period and mentions a dozen core issues: strategic competition and the rules-based international system; emerging, critical and sensitive technologies; transnational organized crime; economic security; Pacific resilience and security; maritime security; border security; cyber security; and space security.
In response, the government wrote, over the next two years New Zealand "will deliver a programme of national security reform, in line with the Royal Commission's emphasis on collective accountabilities and national security community leadership. These reforms will ensure we have the right structures and arrangements in place to deliver a more strategic approach." (The Royal Commission was set up to investigate an attack on Christchurch mosques in 2019.)
However, that plan could change if a the country votes in a new government during elections scheduled for Oct. 14.
"I can only hope that whichever government is formed will look at the work that's been done and say: 'Keep doing the work on the defence capability plan.' This country needs a defense force which can respond when called on by the government, and it will be the government of the day that decides what those capabilities look like," Chief of the Defence Force Air Marshal Kevin Short told Defense News.
"But the messaging, which is the strategy and the assessment of what the global situation is — it doesn't matter which government's in — that is actually what's happening, whether it's climate change or whether it's about the international competition and uncertainty that we're all seeing," he added. "We've been working with the Ministry of Defence and the minister for those policy documents. We've got the framework now. We've got the principles to work, too. The meat on that will be when we do the [Defence Capability Plan] over the next year. I'm very comfortable with what those principles and what the policy says."
Little told media earlier this month that he doesn't expect to see a rise in defense spending over the next two or three years. He also said he doesn't think funding will reach 2% of gross domestic product, although added that the budget would have to rise at some point to replace the Royal New Zealand Navy's two frigates in a decade or so. In 2022, New Zealand spent 1.18% of gross domestic product on defense, according to the Stockholm International Peace Research Institute think tank.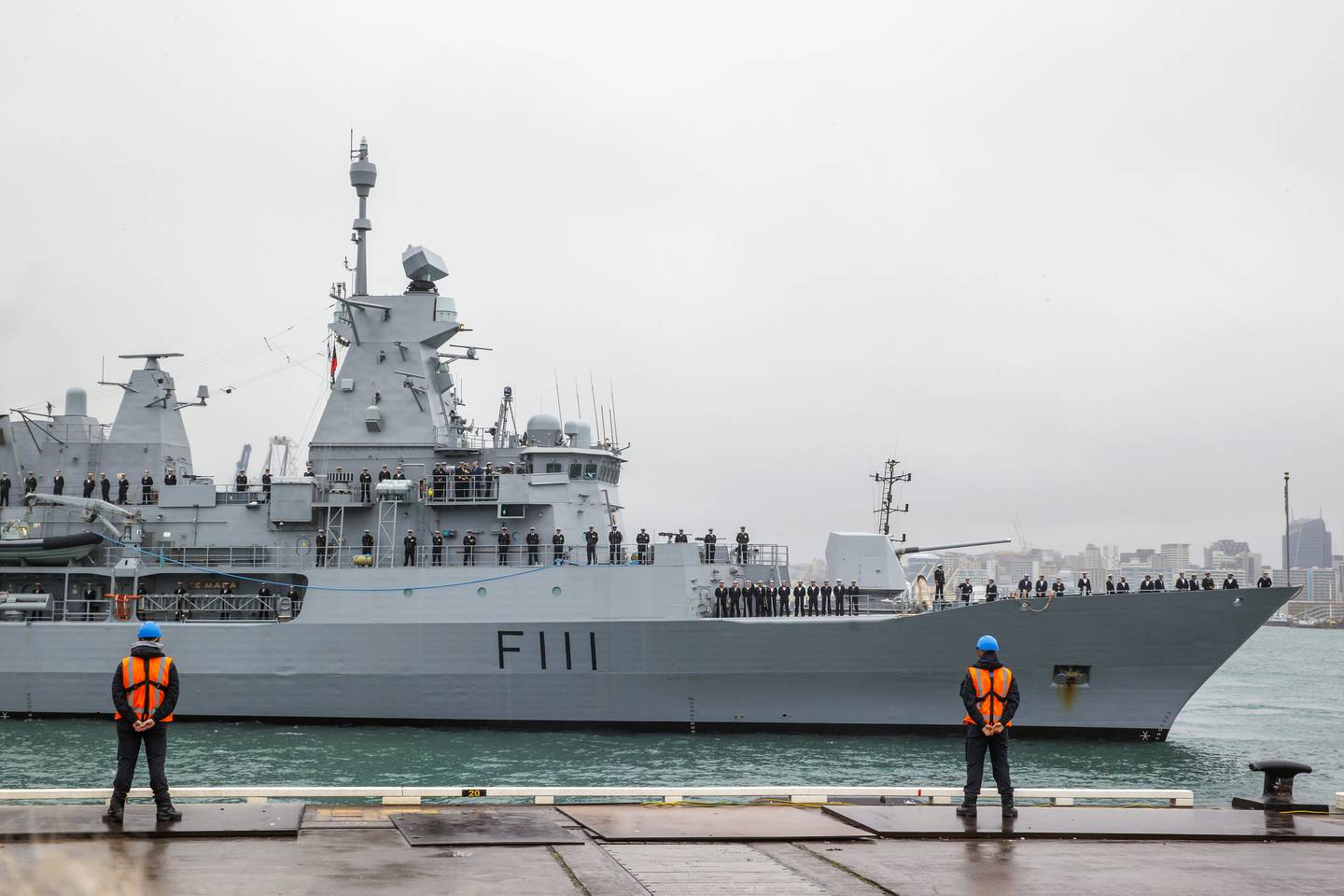 He also said the world is not nearing war in the region, although "there is some rising tension in the Pacific."
When asked about efforts to recruit former military personnel to return to the force, Little told Defense News that "recovering the experience we've lost is difficult."
"I do know anecdotally of some recently departed personnel who have said they would like to come back, and they've seen the increases in remuneration, and for some of them it might be enough to entice them back. Some might wait a little longer to see what else happens," Little added.
One Defence Force officer told Defense News that he was previously worried about the military's preparedness, but that the newly released documents have eased his concerns.
"We need people, kit and capabilities, and you have got to have a pathway for that, which I can see here. A commitment to it [is what] I am looking forward to seeing because if we look back through time, we have been slow to invest in the practical and materiel side of the capability. And my reading is that it has cost us the blood of the nation. That's unnecessary," he said, speaking on the condition of anonymity because he was not authorized to talk to the press.
"So if we can invest in building those capabilities before they're required, it deters madness in the world and it minimizes the investment of the nation's youth and blood. This strategy goes a long way towards that; it outlines the government's objectives and the necessity for it."
Chris Martin contributed to this report.
Nick Lee-Frampton is the New Zealand correspondent for Defense News.
Share: